At the Progress Reviews we ask parents/carers to fill in the survey that OFSTED use. Last year's results were extremely positive and were shared with staff and students. Here are the headlines:
99% say their child is taught well and makes good progress
98% say their child is looked after and feels safe
98% say that the school ensures students are well behaved
98% say the school is well led and managed
97% say they would recommend Cockburn to other parents/carers and this has clearly happened as yet again we were again over-subscribed for the 2022-23 Year 7.
These results are similar to those received in previous years with an increase overall and with a significant 16% rise in parents/carers saying that they 'Strongly Agree' with the statements.
Share your views through Ofsted Parent View
Parents and carers can give their views of our school at any time of the school year and at the time of a school inspection using an online questionnaire called Parent View.
When our school is notified of its next Ofsted inspection, parents will be invited to give their views about the school to inspectors using the Parent View online facility as this has replaced Ofsted's paper questionnaire. Please make sure we have your most up-to-date contact details.
Please register with an email address and a password at http://parentview.ofsted.gov.uk. Once your login has been activated, it only takes a few minutes to complete answers to 12 short questions about aspects such as bullying, the quality of teaching, level of homework, etc.
Your views are important in helping inspectors make a decision about our school, and to help us know what is going well and what could be improved.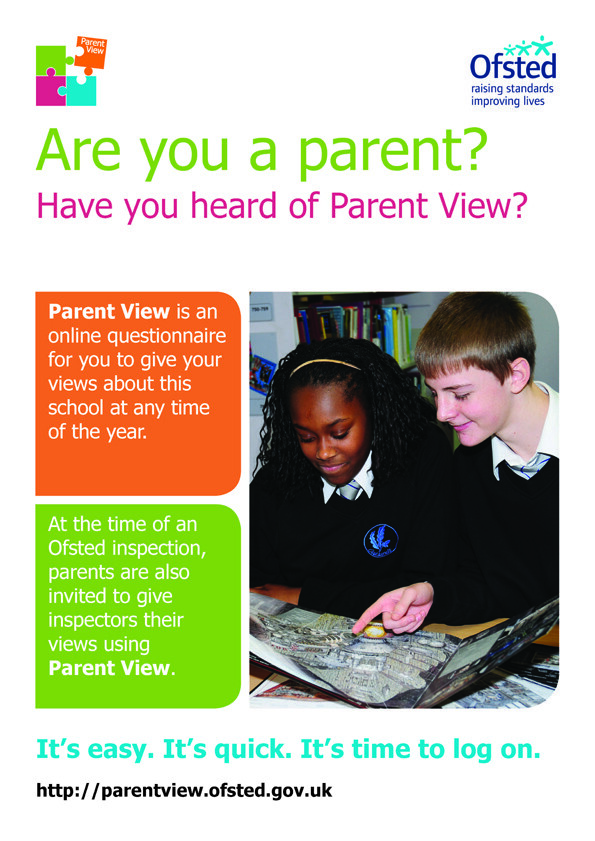 If you do not have a computer or an email address or if you would like help to use Parent View, please come into school and ask at reception.